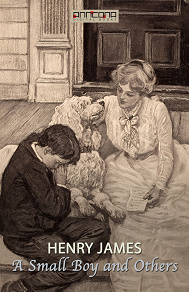 A Small Boy and Others
A Small Boy and Others is a book of autobiography by Henry James published in 1913.
The book covers James's earliest years and discusses his intellectually active family, his intermittent schooling, and his first trips to Europe.
A Small Boy and Others has enjoyed mostly favorable commentary. Critics have appreciated how James speaks honestly about his childhood hesitancies and feelings of inadequacy. James narrates many stories of his family life and his desultory, sometimes erratic education with welcome humor and unfailing grace.
Henry James, OM (Order of Merit) (1843-1916) was an American-born writer, regarded as one of the key figures of 19th-century literary realism.
He is best known for a number of novels showing Americans encountering Europe and Europeans. His method of writing from a character's point of view allowed him to explore issues related to consciousness and perception, and his style in later works has been compared to impressionist painting. His imaginative use of point of view, interior monologue and unreliable narrators brought a new depth to narrative fiction.
Henry James was nominated for the Nobel Prize in Literature in 1911, 1912, and 1916.
---