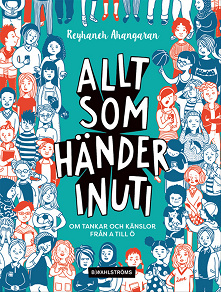 Allt som händer inuti : om tankar och känslor från A till Ö
Fler och yngre barn än någonsin söker sig till barn- och ungdomspsykiatrin i Sverige. Både barn och föräldrar vågar be om hjälp. Det är bra. Men innebär psykisk ohälsa att man "bara" mår dåligt eller att man faktiskt är sjuk?
Barnpsykologen Reyhaneh Ahangaran har länge saknat en bok som handlar om hur man mår, med ett direkt tilltal till barnet. Nu har hon skrivit en: "Barn ska kunna få svar på frågor om sina känslor men boken ska också vara en hjälp för föräldrar som vill prata om känslor och psykisk hälsa med sitt barn. Ett stöd i vardagen. Om både barn och föräldrar lär sig lite mer om vad som är helt rimliga upp- och nedgångar i måendet, så förstår man också när det är dags att söka hjälp. Boken peppar och ger enkla 'nycklar' till vad man kan göra själv när något svårt eller när det är dags att våga be om hjälp."
Boken är faktagranskad av en barn- och ungdomspsykiater.
---