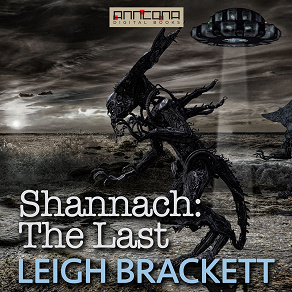 Shannach: The Last
Shannach: The Last is a science fiction novella by Leigh Brackett. 
Even in this grip of alien horror a man could not throw away his lifetime goal … not stand idly by as endless rows of alabaster shapes, seated in their chairs of stone, thought-ruled this gargoyle planet from the dead blackness of deep Mercurian cavers.
In Shannach: The Last we are at the desolate and forbidding Twilight Belt on Mercury, where Eric John Stark was raised. A man is looking for super precious sun-stones when he comes upon an enslaved people in thrall to a dying alien intelligence. In this tale's harrowing opening sequence, our intrepid miner is trapped deep beneath the planet's surface in a cave system that will be a rough ride for any claustrophobic… 
The novella was included in The Best of Leigh Brackett (Ballantine Books, 1977).
Shannach: The Last was first published in Planet Stories magazine in 1952. Reading by Kirk Ziegler, total running time (TRT): 2hours, 15 min. Also available as e-book (ePUB).
Leigh Douglass Brackett (1915-1978) was an American author, particularly of science fiction, and has been referred to as the Queen of Space Opera. She was also a screenwriter, known for her work on such films as The Big Sleep (1946), Rio Bravo (1959) and The Long Goodbye (1973). She was the first woman shortlisted for the Hugo Award.
Listen to sample
---