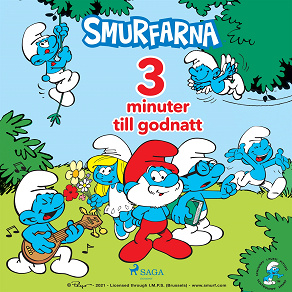 Isbn:
978-87-2693-192-1
Publisher:
Saga Egmont
Category:
3-6 years
Children's books
Accessible since:
October 2021
Narrator:
Ove Ström
Length: 33 minutes
---
Smurfarna - 3 minuter till godnatt
Snickarsmurfen drömmer om att kunna flyga, men det är lättare sagt än gjort, han har ju inga vingar! Bagarsmurfen stöter på problem när han ska baka en kaka, för äggen är helt slut. Vad ska han nu göra? Och Musiksmurfen hamnar i trubbel när han spelar på sin trumpet, det låter nämligen alldeles förfärligt!

'Smurfarna - 3 minuter till godnatt' är en sagosamling av kortare berättelser, perfekt att lyssna på innan läggdags!


Smurfarna skapades 1958 av den belgiske serietecknaren Pierre "Peyo" Culliford. De blå varelserna bor i små svampliknande hus i en by djupt in i skogen. När de inte leker, bygger, äter, uppfinner eller har kalas tillbringar de sina dagar med att busa med den onda trollkarlen Gargamel och hans katt Azrael som mer än något annat vill bli av med smurfarna ...

Smurfarna och tillhörande varumärken ägs av Peyo Creations. © 2021 Peyo Creations.

Get ready for adventures in Smurf Village with Smurfette, Papa Smurf, Harmony, Hefty Smurf, Poet Smurf, Smiley Smurf and all the other little, blue creatures. Hear what happens when Handy Smurf wants to fly, when Baker Smurf runs out of eggs for his cake, when Vanity Smurf's reflection suddenly comes to life, or when Gargamel repeatedly tries to spoil the Smurf's peaceful everyday life with his evil plans and dangerous elixirs. Smurf fun!
Listen to sample
---