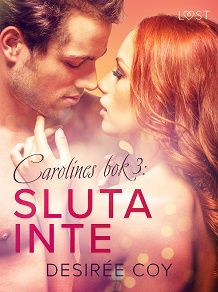 Sluta inte - Carolines bok 3
Advokat Caroline Stierna stänger av sin mobil och hänger sig helt åt den bubbla hon välkomnas in i av miljonären och entreprenören Alastair Smalls. Under affärsresan i Karibien är livet enkelt och det strikt professionella varvas sömlöst med utforskandet av nya, erotiska upplevelser.
Jesper är långt borta och i paradiset kan Caroline ladda batterierna och glömma äktenskapsproblemen hemma i Sverige. Frågan om vad hon och Alastair egentligen håller på med kan vänta, det är dags att leva i nuet och låta resten försvinna ...

Desirée Coy är en pseudonym för en etablerad författarinna från Västsverige. Desirée skriver lustfylld läsning för kvinnan mitt i livet. Berättelser om vänskap, längtan, nyväckt lust, osäkerhet, förbjuden åtrå och lyckliga slut.

Delen om Caroline i serien Bokklubben Basic Instinct innehåller en mörkare spin på klassisk chick-lit och skildrar en mogen kvinnas krokiga väg genom äktenskap, hemligheter och att försöka hitta sig själv. Serien tillhör genren erotisk romance och kan bäst beskrivas som en modern Sex and the City.
---