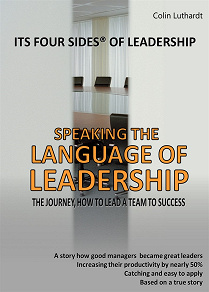 Speaking the Language of Leadership
Managers like to achieve goals more than anything else. However, in their ambition to achieve goals they tend to take shortcuts. They would rather have the people follow their suggestions and have them do as they are told. But too often the results don't turn out the way the managers want them to.

If managers want to have different results the next time, they have to start to do things differently. It is not the large investment or the bold restructuring that made the difference with this company, but numerous small changes in behavior and communication. This is what changed the results at the company DigiC. All was done without investments or organizational changes.

What was different then?
Instead, this company worked with their managers, making them better leaders. This brought the teams to be more organized, focusing more on the common goals, and enjoying their achievements. This made this company increase their turnover by nearly 50% in two years.

Is this an illusion?

Based on a true story, Speaking the Language of Leadership shows the impact of communication and leadership on people in organizations.

On this journey, the managers at DigiC developed their ability to use their language skills to express and communicate more deeply in different situations. Through the numerous events the reader can follow the Coach and the managers at this company and see how they learned to understand each other and their teams. This change turned the managers into strong leaders. They changed and their business developed by nearly 50% in two years!

Based on real people that had true challenges, this book illustrates in daily business how situations develop and how they changed. It gives the reader insight into how the leaders showed leadership in their communication and gave situations a positive turn.

The theory of Its Four Sides of Leadership offers a clear structure that gives the reader orientation and suggestions to enhance their own language to become more effective leaders.

If you want to develop your leadership and become a leader who leads a team to success, read this book and discover in numerous real-life examples what you can do differently.
Try it; it works.

---