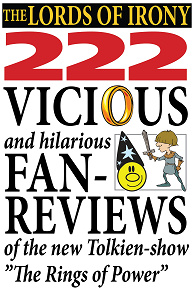 Lords of Irony — 222 vicious fan-reviews of "The Lord of the Rings: The Rings of Power"


Irony is a powerful weapon. This e-book is a dedication to the thousands of fans who have protested against the desecration of the work of J. R. R. Tolkien.

When Amazon Prime Video put one billion dollar in the new tv-show "The Lord of the Rings: The Rings of Power" they got arrogant.
Bit by bit they changed the unique world created by Tolkien.
They didn't like the stories that had enthralled readers in more than 70 years, and viewers in more than 20 years. So they created their own.

But fans of Middle-Earth are hardcore. We don't like it when details faked, twisted and distorted – or completely wrong.

When photos and trailers from the new tv-series was released the fandom protested.
As Amazon is an online giant they have the influence and power to get critical voices silenced.
Wherever "The Rings of Power" was promoted online, thousands of Tolkien-fans flocked there to publish their comments.  

As 'pippin226' wrote: "Amazon tries a cashgrab on the Tolkien franchise. Tolkien fans: LOL, You have no power here!". And 'Ray A' wrote: "The collective Tolkien fan-base of millions say in unison to Amazon, 'YOU SHALL NOT PASS!!!'".

The fans chose the perfect weapon against censorship: irony and satire.
One of the best example is Andre Ávilas comment on Youtube: "The part where Jenny says to Treebeard 'Run, forest, run!' was without a doubt a triumph in cinematography!".

In this e-book we have gathered more than 222 of these ironic reviews and comments.
Many are using quotes and references from classic movies and tv-series to deride the effort by Amazon to "modernize" Middle-earth.
You better know your "Harry Potter", "Star Wars" and "Breaking Bad".
In some quotes the references are really obscure, for example the "ein befehl"-Hitler-scene from the movie "Downfall/Der Untergang".
---