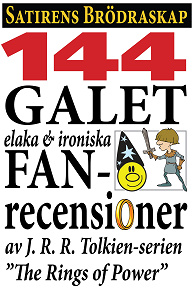 144 bästa fanrecensionerna av Tolkien-serien "The Rings of Power"
Ironi är ett kraftfullt vapen. Den här e-boken är en dedikation till de tusentals fans som har protesterat mot skändningen av J. R. R. Tolkiens verk.
När Amazon Prime Video satsade tio miljarder på nya tv-serien "The Lord of the Rings: The Rings of Power" blev de arroganta.
Bit för bit förändrade de den unika värld som Tolkien skapat.
De gillade inte berättelserna som trollbundit läsare under mer än 70 år och tittare under mer än 20 år. Så de skapade sina egna.
Men vi fans av Middle-Earth är unika. Vi gillar inte när detaljer förfalskas, vrids och förvrängs – eller är helt fel.
När bilder och reklamfilmer från den nya tv-serien släpptes började en protestvåg utan motstycke.
Men eftersom Amazon är en av världens största onlinejättar har de inflytande och makt att få kritiska röster tystade.
På alla ställen där "The Rings of Power" marknadsfördes på nätet, strömmade tusentals Tolkien-fans dit för att publicera sina kommentarer.
Som 'pippin226' skriver: "Amazon vill förvandla Tolkien till en pengapress. Men Tolkien-fansen svarade: Du har ingen makt här!". Och 'Ray A' skriver: "Den kollektiva Tolkien-fanvärlden med flera miljoner medlemmar säger unisont till Amazon; 'NI KOMMER INTE FÖRBI!!!".
Författarens fans valde nu det perfekta vapnet mot censur: ironi och satir.
Ett exempel på den här iron gav Rita 25 y.o på Youtube: "Elrond skrikande 'De kan ta vårt land, men de kan aldrig ta våra lembas!' var sååå storslaget!"
I den här e-boken har vi samlat 144 av de här ironiska recensionerna och kommentarerna.
Många använder citat och referenser från klassiska filmer och tv-serier för att håna Amazons ansträngningar att modernisera Midgård.
---