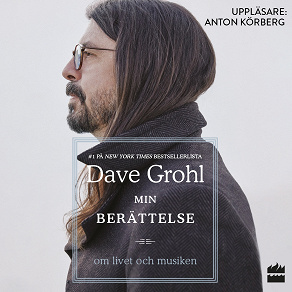 Isbn:
978-91-7719-133-9
Publisher:
HarperCollins Nordic
Category:
Memoirs & Biography
Accessible since:
October 2022
Narrator:
Anton Körberg
Length: 10 hours 23 minutes
---
Min berättelse - om livet och musiken
En personligt skriven berättelse om en liten kille från Springfield, Virginia, som närde en dröm om att bli rockstjärna.
Dave Grohl växte upp i ett hem med lite pengar och mycket kärlek. Alltför rastlös hoppade han tidigt av skolan för att dra ut på vägarna med punkbandet Scream, och tvingades ljuga om sin ålder för att få spela på ställen han var på tok för ung för att ens komma in på.
Här berättar han målande och underhållande om åren då han bodde i en skåpbil, om kamratskap och om den ständiga bristen på pengar. Om hur han gick med i Nirvana och om bandets oväntade framgång och tragiska slut, om hur Foo Fighters blev hans väg framåt och hur han idag reser världen runt och spelar på arenor samtidigt som han är en hängiven familjefar.
Min berättelse är fullproppad med livsglädje, humor och Daves klarsynta perspektiv på berömmelse. Allt ackompanjerat av ett gediget bildmaterial, bland annat från hans privata album.
***
Dave Grohl (född 1969) är en av våra största nutida musiker. Här lär vi även känna honom som en begåvad och engagerad författare. Han fick sitt stora genombrott som trummis i Nirvana och har sedan dess haft stora framgångar med det egna bandet Foo Fighters. Utöver det medverkar han på en rad album med andra artister som Queens of the Stone Age och Tenacious D. Han bor tillsammans med sin fru och deras tre döttrar i Los Angeles.
Listen to sample
---