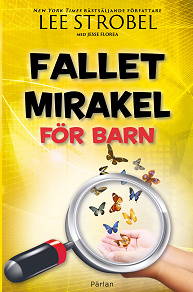 Fallet mirakel för barn
Svar på frågor om mirakel som vuxna också brottas med. Du möter dem som har svårt att tro på under varje dag. De ställer frågor som dessa:
Är berättelserna om mirakel verkligen på riktigt?
När jag ber riktigt mycket om ett mirakel, varför händer det inget?
Det här är en bok, skriven på ett barnvänligt språk, som ger dig svar på dessa frågor och fler. Här hittar du massor av information om Gud, Jesus och verkliga berättelser av människor som både sett och erfarit mirakel. Fallet Mirakel - för barn visar att Gud fortfarande gör fantastiska saker i vår värld - och att mirakel händer oftare än vi hade en aning om.
Lee Strobel, tidigare ateist, har tidigare varit flerfaldigt belönad reporter hos Chicago Tribune. Nu är han bästsäljande författare av bland annat Fallet Jesus (svenska) samt The Case for Faith, The Case for a Creator och The Case for Grace. Han har en examen i journalistik från universitetet i Missouri och en Master i juridik från Yale universitet. Han har vunnit flertalet stora prestigefyllda pris för sitt skrivande och har varit medförfattare till The Christian Book of the Year. Nu tjänar han som professor vid Houston Baptist University. 
EPUB3: Reflowable
---